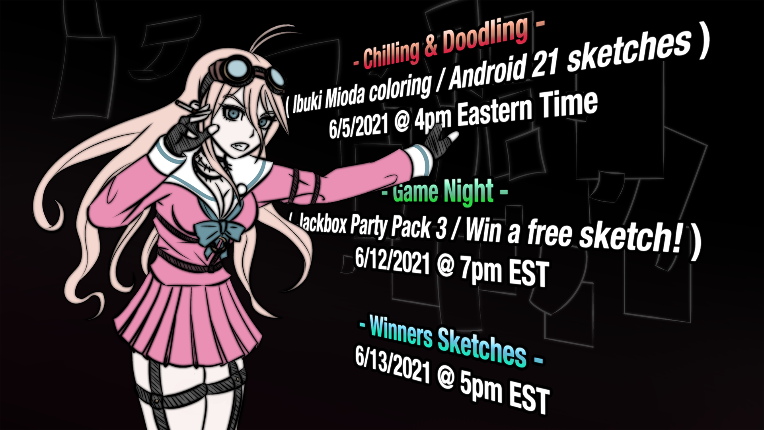 Here's a new stream schedule for June!
- Chilling and Doodling -
( Ibuki Mioda coloring / Android 21 sketches )
6/5/2021 @ 4pm Eastern Time
- Game Night -
( Jackbox Party Pack 3 / Win a free sketch! )
6/12/2021 @ 7pm EST
- Winners Sketches -
6/13/2021 @ 5pm EST
Game Night Guidelines:
-To avoid confusion , please use your Youtube username for the Jackbox lobbies.
-With the way Jackbox games work, I will participate as the host for each game. If I end up as the winner, the 2nd place player wins the sketch.
-After winning a sketch, please allow a new player to take your spot. You can still join the game as an audience member after all the slots are filled.
-After a game is over, I will ask the winner for their sketch idea. If they don't have an idea ready, I'll ask again after the game night is finished.
-Winners don't need to attend the next day's stream to recieve their sketch. If the idea has already been provided, the sketch will still be drawn. Having live feedback is nice but it's not mandatory.
-One sketch per winner. A sketch can only contain one character and a simple prop. Complex items and weapons are fun to draw but they take too much time and they pretty much count as a separate character.
-Don't forget that Youtube wants everything to be family friendly. With that said, sketches can't be too risque. I reserve the right to say no to any idea I'm not comfortable with.
-The sketches will be posted on Newgrounds and Twitter after completion.
Best of luck!