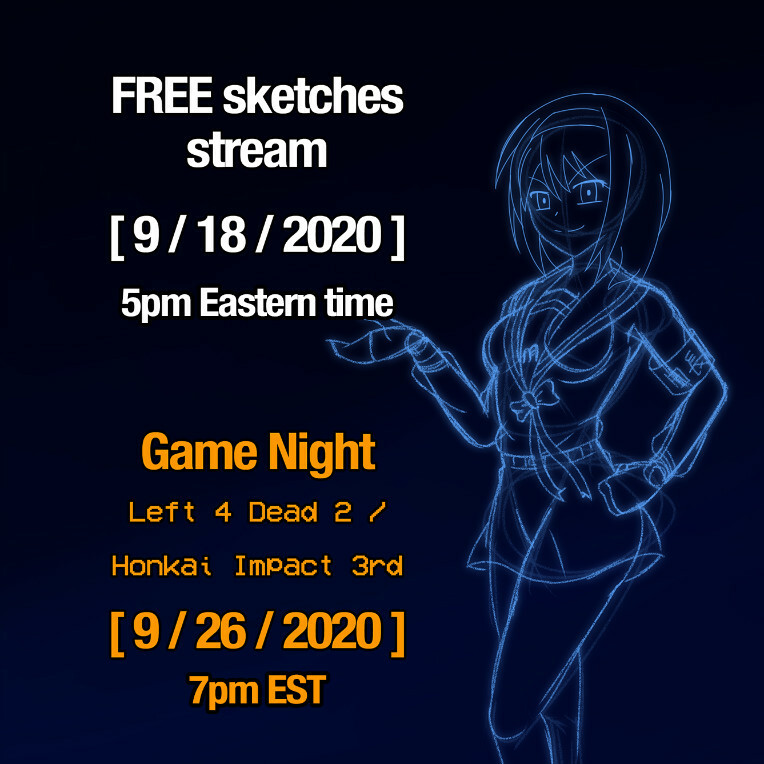 Why hello there! The algorithm has brought us together once again. And would you look at that, my channel reached 3k subscribers!!!
Even though I am working on an official 3k sub video to celebrate, I'll also be doing another art stream for everyone lucky enough to see this. Everyone who shows up on stream has an opportunity to get a free rough sketch of their waifu or husbando! There's a few guidelines though:
1. My goal is to finish 7 sketches by the end of the stream, afterwards there are no guarantees. It's first come, first serve so best of luck to everyone joining in. When the stream starts and the microphone is on, I'll ask "Who wants a sketch?". The first people to type in "I do!" in chat will be added to a list of 7 slots. After the 7 sketches have been completed and I still have energy, I'll ask again but it's for a single slot. This will go on until I run out of steam on stream.
2. Everyone is limited to one character and no background / props. If the character has a complex design, we'll need to give up on doing a full body pic ( ex. Isaac Clarke's level 3 engineer suit from Dead Space is a bit too much to do on stream ). There's always room for compromise so don't be afraid to ask!
3. To save time, please have reference photos of your character ready. I'm not sure how Youtube feels about posting links in chat so let's limit it to wikia, twitter, and imgur links. If it doesn't work out, as long as I can google search the character, we can pick it out on stream.
4. Requests will be taken live in chat. With that said, you'll need to make sure your idea is short, sweet, and to the point ( 5 sentences or less ). We can't have chat looking like a novel, how unfortunate. When your name gets called up, that's when you can share your request in chat. It might be easier if your idea is meme related because the pose will be self explanatory.
5. Last but not least, as much as I want to make everyone happy, I do reserve the right to say no to an idea. I'm hoping it won't come down to that but still, if you try to please everyone, you'll ending up pleasing no one.
The stream will be next Friday ( 9 / 18 / 2020 ) at 5pm Eastern time.
There'll also be a Game Night stream on Saturday ( 9 / 26 / 2020 ) We'll be playing Left 4 Dead 2 and Honkai Impact 3rd.
Anyone is welcome to hop in and join!
Anyways, things are getting pretty rough out there in the world but I hope you're doing alright.
Till we meet again next time!